Proven: our app is the main sales channel
The goal of any modern business is to inhabit the phone of its customer. This is especially true for the food delivery business. With the right approach, the mobile app will become the number one channel for receiving orders. Here are some examples of our clients, with a turnover of more than 5 million roubles a month.
| Order Source | Delivery А | Delivery В | Delivery С |
| --- | --- | --- | --- |
| Website | 23% | 38% | 18% |
| Phone Call | 17% | 20% | 21% |
| Mobile App | 60% | 42% | 61% |
Why does our app show such results?
Without going into details, all applications are similar. However, it is the details that determine success.

Comfortable navigation, fast and stable operation, easy order placement

Full integration with CRM system: personal account, order history, bonus payments

Tracking courier on the map after order placement

Sending mailing list to the entire database: tell about the news and promotions, make personalized offers

Promo codes: both general and personal

In-app card payment, ability to link your card to your account, Apple Pay and Google Pay
Path to the customer's heart
Over several years of work, we have already launched more than 100 food delivery services, before our eyes some deliveries were successful, others were closed.
In the catering market, it is important to fight for every new client, turning him into a permanent one.
The key parameter in the delivery business is loyalty, which has a living base of regular customers, it earns. Settling in your customer's phone is the shortest way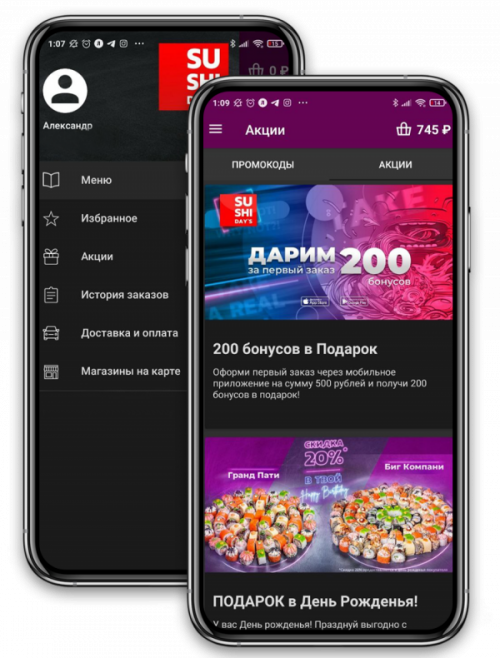 A picture is worth a thousand words
We brand the application for each delivery, so it looks like an integral part of the company, and not as a faceless designer.
Download one of the apps and make sure to