Attract new customers and increase your loyalty base
At Deliverest we have combined into one system effective tools for attracting and retaining customers.
Mobile application is the main sales tool
The task of any modern business is to be in the client's phone. This is especially true for the dark kitchen segment, where the Internet is the main channel of communication between business and consumer.
On average, more than 50% of all orders come in through a mobile app. Here are some examples of our clients, with a turnover of more than 5 million roubles a month:
| Order Source | Delivery А | Delivery В | Delivery С |
| --- | --- | --- | --- |
| Website | 23% | 38% | 18% |
| Phone Call | 17% | 20% | 21% |
| Mobile App | 60% | 42% | 61% |
How do you promote a mobile app?
The cost of the second and subsequent orders through the app is several times lower than the cost of orders on the site or with the help of an operator.
To attract customers to the app Deliverest has developed a ready-made mechanic with a gift for the first order. Having your app in the customer's phone will allow you to effectively manage sales and customer loyalty.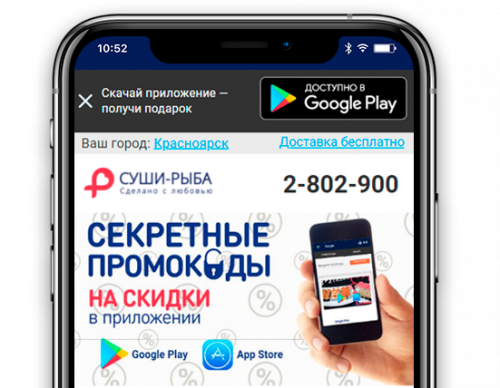 Increase sales with ready-to-use promotional tools
How to effectively use promo codes in marketing?
Use promo codes instead of discounts;

Test new advertising channels;
Increase customer loyalty by using promo codes as compensation for contingencies.

Push Notifications and Mailings
Free, fast and most efficient channel for communication with customers:
Notify customers of new promotions;
Send promotional codes throughout the database, by group, or personally;
Use mailings to evaluate the quality of your work.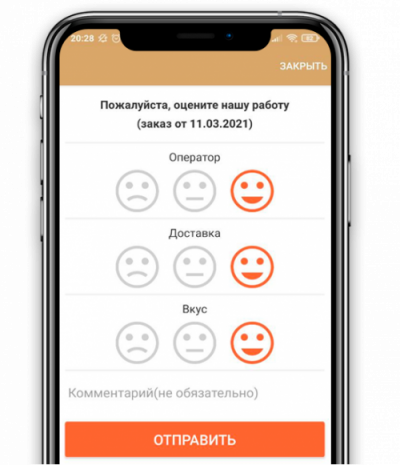 Remind yourself if you have been forgotten
Deliverest monitors the customer base daily and automatically, finds customers who have not made an order for a long time and forms a mailing with a special offer for them.

Increase the average check.
Use an out-of-the-box tool to increase your average check – the Chef's Gift. This is a gift item from the menu, when ordering for a certain amount on the website or in the mobile app. A simple and proven tool that encourages the customer to order more items, significantly increasing the amount of the average check.

Bonus system
Bonus system or cashback is a powerful tool to increase guests' loyalty and stimulate repeated orders.
But it is important to use it correctly: it should be simple and stimulate to order more often and for a larger amount.
Each customer, after the first order, becomes a member of the loyalty program and begins to accumulate points. You can check the bonus balance in your personal account on the site or in the app.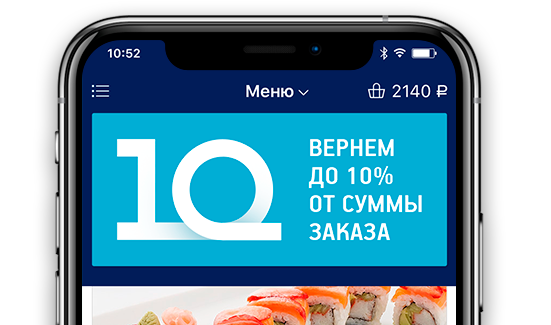 Use data from the CRM system to work with the client database
Повышайте лояльность и уровень сервиса.
Increase loyalty and service.
Monitor and monitor customer satisfaction by key points of contact. Keep your network reputation high – Deliverest allows you to work with online feedback.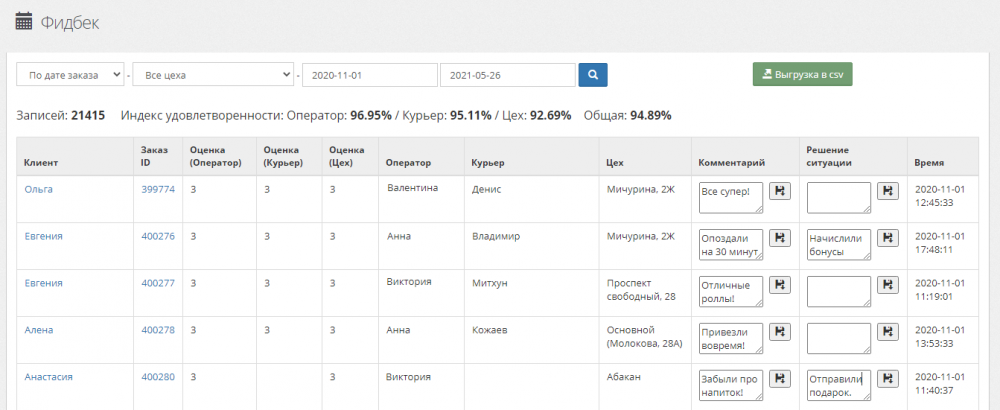 Make each customer permanent
Apply the full functionality of the platform – encourage customers to order more and more. Monitor the result in simple reports and schedules.